Dwarf happiness costs huge money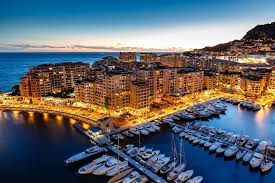 Most citizens, when they say "dwarf," have a blissful smile on their lips. Still would! Whose heart does not touch the dwarf poodle baby? Who will not be touched by the centuries-old dwarf pine? So is the dwarf state. On its territory, as if in a small casket, all the best was collected on several tens of hectares of land. While traveling by car, you can see all the wonders of the world in just half an hour …
The Principality of Monaco is for those who prefer to wake up in apartments decorated with gold, who are accustomed to tread on carpets made of natural wool, who can not do without immersion in a pool with mineral water, and, finally, for those who can easily do all of the above "Little things" is ready to lay out a tidy sum.
The Principality of Monaco is a chic, pompous resort where Hollywood stars rest, spend French weekend divas, spend stunning sums of wealthy people from all over the world in casinos. For these reasons, hotels in three or four stars, God forbid, if you pick up a few pieces. For example, an old three-star hotel, not repaired for a couple of decades, will cost 300 euros per day per room. The largest room is 20 squares, where a bed, a TV, a telephone, a minibar, a bedside table and a shower with a toilet can fit. But similar living conditions for Monaco are more likely an exception. And the rule is super-comfortable hotels, such as De Paris. This hotel is recognized as the best on the Cote d'Azur.
The hall and stairs of the first floor are decorated with marble and gold. An integral "paraphernalia" is the forever smiling receptionist whose nervous system can be envied. He never, under any circumstances, raises his voice, is not rude, and certainly, is not rude to guests. If this happens, the poor fellow is deprived of their place without explanation.
Room with a total area of ​​25 square meters for the hotel is the smallest. The maximum is 100. Finishing and color scheme are not repeated. According to the stories of "experienced", at the entrance to the apartment, the feeling is as if the world had turned upside down. Everything around is reminiscent of the sheikh's mansions – a huge bed, wrapped in silk curtains, and "heavy" curtains made of natural fabrics to match the box, and numerous mirrors illuminated by "Aladdin's lamps". Necessarily a loggia with a view of the sea. Of the modern benefits of civilization – a minibar with an "ammunition" of alcoholic drinks, audio and video equipment, two phones – in the room and in the restroom, Internet connection. For beautiful mansions they ask for 850 euros per day … But there is an interesting detail – the price does not include breakfast (as in all European hotels) and the passage to the hotel's private beach. It turns out that in Monaco to book a room with breakfast or dinner is a bad manners. On the ground floor there is a restaurant open around the clock, where they are ready to serve both breakfast, lunch and dinner.
By the way, about the satiety of the stomach: a modest dinner without drinks will cost 40 euros. With especially tender feelings, the cooks of the principality relate to seafood. On the territory of Monaco, scattered dozens of fish restaurants. The highlight is that after a starving client orders fish or crab for dinner, they will first be presented with a "dish" in a live form. After approval – cook. For pleasure you have to pay 60-70 euros. "Crown" side dish – pasta. They are served even with seafood. This is because the Principality of Monaco is in close proximity to Italy.
Luxurious rooms at the Hotel De Paris Each property has a beach. But admission is only for a fee – 10-12 euros per day. The price includes a sunbed, an umbrella, a towel. Waiters perennially pace past vacationers with a proposal to familiarize themselves with the menu. They will be pleased to serve everything to your heart's desire near the sunbed – from soft drinks and light fruit salads to a good snack.
If the "dear" guest is already unbearable to bask in the sun, then you can go on a sightseeing tour of the principality. There are two types of transport to choose from. The first is a city tram, which rides 40 minutes and puts out 20 euros, quickly get acquainted with the hilly landscapes of Monaco.
But this is bad luck, the guides speak all world languages ​​except Russian. The second is renting a private car. For 400-500 euros for a four-hour field tour of a Russian-speaking guide will be provided without fail.